Japandi Wallpapers by Scion
Scion's sophisticated sid shines through with Japandi, an 'imperfectly beautiful' collection of eight wallpaper designs over 32 colourways.

Modern rustic Scandi influences blend with bold and beautiful Japanese aesthetics to create a hybrid trend, which carefully incorporates ikat brush marks and playful patterns.

Japandiís colour palette includes muted Liquorice, Parchment and Graphite shades injected with bright pops of Tumeric, Emerald, Chilli and Forest.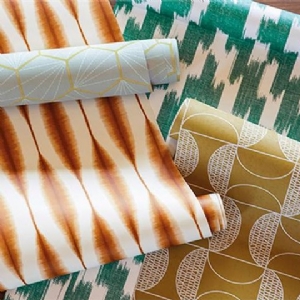 Designs in this collection: